Representing the residents of the Lockwood,
Senator Taylor Brown thanks you for your support!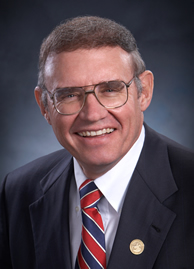 HOME:
Phone:  (406) 348-2070
775 Squaw Creek Rd.
Huntley, MT  59037
Hello!  As your State Senator for District 22, I am proud to represent the Lockwood Montana area at the Legislature in Helena.  I invite you to visit my Senate website at

www.SenatorTaylorBrown.com

for information about the State Legislature, to read the Bills that we have worked on, to see my positions on the issues, and much more.  Please feel free to contact me anytime if you have questions, or suggestions on how I might serve you better.
About Senator Brown:
Taylor Brown is widely known as one of the nation's leaders in the field of agricultural broadcasting. With perhaps the most recognized voice in the intermountain west, Brown has played a huge role as a leader for our region since he joined the Northern Broadcasting System as an on-air farm broadcaster in 1979.  As the owner of the company since 1985, he now heads up a team that every market day produces over three dozen news, market, weather and sports information programs for over 70 affiliated radio stations in 4 states; plus two daily ag television programs that are seen on 9 Montana and Wyoming TV stations, and their popular ag website: www.NorthernAg.NET.
Taylor grew up on his family's ranch in central eastern Montana near Sand Springs, and has owned cattle and horses for over 40 years. He attended high school in Lewistown where he was active in FFA, and earned his bachelor's degree in Agriculture from Montana State University in Bozeman, where he served as the university's Student Body President.  There he met and fell in love with Shannon Clouse, and these two college sweethearts have been happily married since 1980.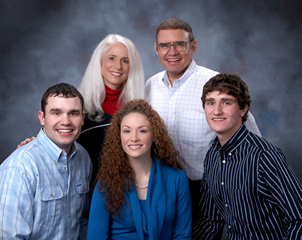 Today Shannon and Taylor live near Huntley where they have raised their three children:  Travis, Courtney, and Colter.  Their family has been tremendously active in the Huntley Project area, and they are well-known as leaders in 4-H, School, Church, and other community activities.  Taylor was a Founding Member of the Huntley Project FFA Alumni Association, and served as the organization's President for 14 years, and for 10 years he volunteered as the PA announcer for Huntley Project High School home football games.
A past National President of the National Association of Farm Broadcasting, Taylor has served since 1997 as the President of the NAFB Foundation which provides nearly $15,000 in student scholarship support each year. His many professional achievements in the broadcasting industry include being named America's "Farm Broadcaster of the Year", and receiving the prestigious "Oscar in Agriculture" award for radio, along with accolades from a host of agricultural organizations in the grain and livestock industries.  He has traveled internationally, reporting from Europe, Africa, Mexico, Cuba, Australia, and China during his career.
Among his statewide contributions, Taylor chaired the MSU College of Agricultures volunteer committee to raise $16 million in donations to build the university's first-ever Animal and Range Science building, part of a new Animal Bioscience Complex at MSU.  Taylor was a member of the original Organizing Committee for the Leadership Montana program, and has donated his time to help with all of its first four annual classes. For 20 years he served as the Treasurer of the state's largest rangeland education program, Montana Range Days, for which he has personally raised tens of thousands of dollars in financial support.  His company, Northern Broadcasting System has been a long-time financial contributor to Montana and Wyoming FFA and 4-H youth awards programs, the Special K Ranch, the MSU Steer-a-Year program, and many more youth events and causes. In November of 2008, Taylor was elected to represent State Senate District 22, and began his four-year term in Montana's state legislature.  As a State Senator, he serves on the Senate Taxation Committee, Education Committee, Agriculture Committee, and on the Interim Audit Committee. Proud of his rural eastern Montana roots, Taylor Brown is a true champion for agriculture, and for the families and small businesses like his, that call this state home!