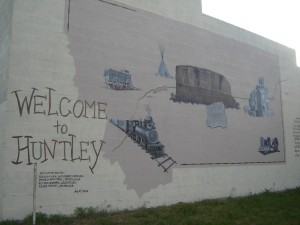 This settlement in arid Crow Indian country at the time was named for S.O. Huntley, a partner in the stagecoach firm of Clark & Huntley. It was located at the head of navigation on the Yellowstone River. The first steamboat, the packet Josephine, arrived June 6, 1875, but river trade was infrequent. A U.S. post office was established in March 1878. The 1880 Census found only 37 people living in Huntley.
Surveying for a railroad led to the so-called "Baker Battl": between Sioux Indians and Army engineers in 1872. The Northern Pacific Railroad arrived in 1882, connecting the town to the new city of Billings. Three years later the town called "Huntley Station" had two stores, a hotel, and a blacksmith. German immigrants were prominent among the new settlers, who established Lutheran and German Methodist churches.
In 1905 the United States Bureau of Reclamation began an irrigation project, called the Huntley Project, on lands that had been part of the Crow Indian Reservation until 1904. The town of Huntley was incorporated into the project along with the new railroad towns of Ballantine, Worden, and Pompey's Pillar, all founded in 1907.
Today, the town of Huntley is located North of Interstate 94 and Southeast of Shepherd along the Yellowstone River.  The Yellowstone County News is based out of Huntley as well as other organizations as the Huntley Community Club, Huntley Water District and R & R Hardware Store.  Huntley's economy is based primarily on agriculture, including farming, sugar beets, corn, wheat, and barley.  Students from the Huntley Area attend Huntley Project High School in Worden, MT.
In 1964, the Huntley Project Lions Club organized the first 'Homesteader Days.' The two-day celebration is held each year on the second weekend in July as a memorial to homesteaders who settled the area. The celebration honors a hardy breed of pioneers who came on foot, by covered wagon, or by immigrant train to carve out a fertile valley in a land of sagebrush and greasewood.
The Huntley Project Museum of Irrigated Agriculture is located in the townsite of the early-day town called Osborn. The museum is southern Montana's most outstanding collection of irrigated agriculture artifacts, with over 5,000 items displayed. It is the most complete museum of beet, small grain and early-day machinery, much of which has been restored to original condition and painted with authentic colors.