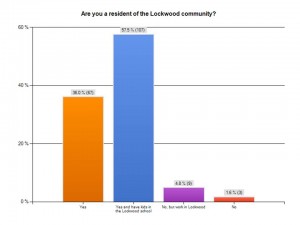 The idea of a community center in Lockwood spawned from the November 2011 Lockwood Steering Committee meeting. 
A subcommittee was created to develop questions for the online survey.  The subcommittee members were Penny Helms, Corky and Leola Harkins, Scott Pancheau, Kevin Smith, Don and Cheryl Mortenson, Ron Hanson and Don Reed. Below are the results of the online Lockwood Survey from May-June 2012 that Representative Jonathan McNiven presented to the Lockwood Steering Committee in June 2012.   
An online survey was put together to see how the community of Lockwood would respond to a possible community center and an email was sent to community districts, social media, and online groups.
  This was the Email below that was sent to all the districts for the online survey.
Dear Lockwood residents, employees, parents, businesses and anyone else associated with Lockwood. 
Please take 5 minutes to complete this 10 question survey of Lockwood.  Please get this out to your distro lists and as many of your contacts as possible so please forward the email and link to the survey. 
This survey will help the Steering Committee and Lockwood members know the direction in which you think Lockwood as a community needs to be focused.  I'd like to have this completed this week!!! So hurry before you forget.
 http://www.surveymonkey.com/s/ZYV66FQ
Thank you,
Also,  for those interested,  here is a Lockwood community facebook group for anyone to be connected online. http://www.facebook.com/#!/LockwoodMontana  I'd be happy to post the results on that group as well as report to the steering committee and anyone one else with the results. 
 Please pass this on to all your list as I'm sure I'm missing people but wanted get this out now.
Here are the highlights of the survey.  For the full analysis of the survey, please see the power point presentation.