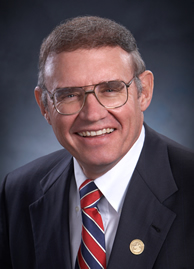 (Helena) – As the members of the 62nd Montana Legislature began to organize last week in Helena, Senator Taylor Brown was elected by his fellow Senators to serve as a Majority Whip in the State Senate.  Brown, who lives near Huntley, represents Senate District 22 which stretches from Billings to Miles City.  He is currently entering his second Legislative Session.
As one of two Majority Whips, Brown will be very involved in helping the Senate Leadership accomplish its work in the biennial session which begins in January.  According to the National Conference of State Legislatures, the duties of a legislative Majority Whip* include:
Assist the floor leader
Ensure member attendance
Count votes
Generally communicate the majority position
Four other members of the Senate were also elected to the Republican Majority Leadership Team:  President – Senator Jim Peterson of Buffalo, Majority Leader – Senator Jeff Essmann of Billings, President Pro Tempore – Senator Bruce Tutvedt of Kalispell, and Majority Whip – Senator Chas Vincent of Libby.  Re-elected to Senate Minority Leader was Senator Carol Williams of Missoula, and Minority Whip Kim Gillan of Billings.
"This is shaping up to be a very challenging session", says Senator Brown, "Because while we will begin with a projected budget deficit of over $300 million, our state is still continuing to spend more money than it takes in.  We have some difficult decisions ahead, but we have heard loud and clear from Montana's citizens that we need to make our state live within its means, without raising taxes…and that is what we plan to do." 
"We have elected some tremendous Leadership, that is committed to strong communication and teamwork from both sides of the political aisle.  We are focused on growing Montana's economy, and increasing the number of good-paying jobs." 
The 62nd session of the Montana Legislature will convene at the State Capitol in Helena at noon on January 3, 2011. 
Senator Taylor Brown presents the Huntley Project as it is in his Senate District 22.